Punta Cana - Dominican Republic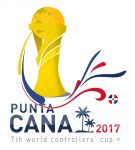 Dear Friends and Colleagues,
In 2009, in the physiotherapist's tent at the European Controllers' Cup (ECC) in Spain an idea was discussed.
That idea became a vision and in 2011, after 2 years of work, the vision became reality and the first WCC Tournament was held in Las Vegas.
Dates
12 – 18 November 2017

Place
Capcana – Polo Club Los Establos.
4 Natural Grass Football Fields

Participants
Exclusive for ATCOs, Pilots, ATC assistants or students of those categories
Format
11-a-side, Round Robin with final knock-out stage
Teams
11 players (plus 5 "roll-on/off substitutes" max of 16 players per team)
Matches
Minimum of 7 matches per team
20
Teams
Different teams participated
14
.
100
$ Raised
For children in local charities